#ArchiSpeak
One of the top architects in the country, Mr. Niteen Parulekar has been shaping iconic buildings on his experimental innovations for almost three decades. Following are excerpts of an interview with him.
Careful balance between innovation, creativity & economics
Innovation or creativity comes from necessity.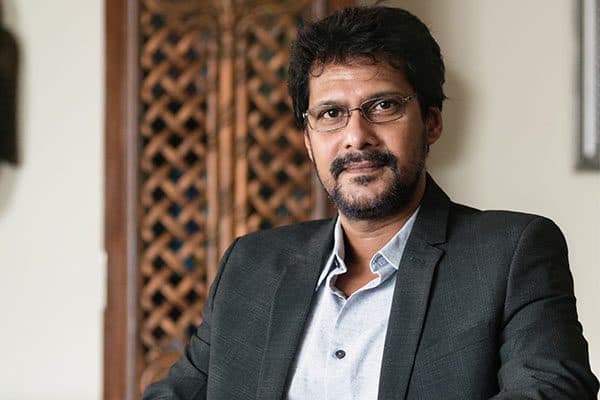 Mr. Niteen Parulekar, Design Principal, Niteen Parulekar Architects Pvt. Ltd.
Technology and businesses have evolved immensely over the years. The architect endeavors to understand a business or a project's demand, and complement it in a fashion such that it gets creatively narrated or executed. At the same time, we have to be careful that the kind of creativity we want to bring into a project doesn't come at a humongous cost or render the timeline unviable. There has got to be a careful balance between, creativity, innovation and the commercials.
On innovating with ACP
The composite panel technology itself was a great innovation and it came as a handy tool for architects. I have used ACP profusely in my projects. In most of my projects, I can't think without glass and steel and aluminium composite panel, and now aluminium sheets as well. There are a lot of possibilities of how you can use ACP. We have handled some challenging projects where we have used ACP in innovative ways.
I think the most challenging surface is the hyperbolic parabola. How you deal with such a surface, especially in residential projects, is pretty challenging.
We did a residential project for Akshar Developer in Vashi, and also another commercial project for them. Both the projects were challenging in terms of the usage of ACP. There were such finer details and a lot of curves that needed to be taken care of.
On Motilal Oswal Tower & Parinee Realty Pvt. Ltd, two outstanding projects of his
Every project has a different story.  Motilal Oswal is a stock broking company. They wanted to bring in all the 5 or 6 offices into one building at Central Parel. We got that in a structure which was about 220,000 sq. ft. Their aspiration was to make an iconic building that stands out. It has a glass façade – Low-E high-performance glass – with fins all around it. We did energy modeling of the building and all the relevant analyses and calculations like the Sun Path analysis, heat gain calculation etc. In a way, it's a green project although we did not go for any LEED certification.
Sustainability is an integral part of every project we do.
One distinguishing aspect of Motilal Oswal is the lighting of the building in the evening. We had LED lights washing the whole building. With DMX control you can get different colours. They are stock brokers, so red means market down and green means market up. You can get other colours as well to celebrate festivals throughout the year. The company can express themselves in several ways. The aspiration behind the 127-metre tall Parinee, meant for the post-production units and the corporate offices of Bollywood, was again to make it dazzle. There also we have used a very high performance glass with a dichroic film that changes colour with the angle of the viewer and the intensity of light.
On the innovation happening at Aludecor
I must say that it's rather refreshing to see so much of innovation happening in your product. There are several surfaces that have been introduced. I like the textured ones. I also love the one that changes colour (dual tone Magik). It's going to be of great use for exteriors as well as interiors. There are so many possibilities with the wood finish, the stone finish and the other natural surfaces. Biomimicry happens in a very innovative fashion in your product. That's something that will inspire architects in using them innovatively, both for exteriors and interiors.
A building or an interior with a great design has several surfaces having perfect interaction with each other.
On the innovation happening at Aludecor
Humans have been doing biomimicry since the 21st century. Sometimes the business or the plot demands a biomimetic structure. In case of EON, we were dealing with a 40-acre plot which was on a mound. And you had to consume the humongous FSI permitted by the IT. The only form that could enable covering such a huge area was a nautilus. And if you cut a nautilus and connect the two of them they become two horns or a pod. The project demanded a form like that, something that would express itself aloud. When you are at your creative best and one with the design that you want, the form automatically takes shape. In a way, EON is an inspiration from nature. Nature has been an inspiration for all kind of artists including musicians, painters and also architects. Buckminster Fuller created the Geodesic Dome. You have Velcro which was again inspired by a plant.
There are several examples like that and there's no stopping. In the future, we are going to see more biomimicry happening in every sphere. In case of Parinee, the colour changing is a biomimicry of a chameleon. It's not a direct borrowing, but you use an innovative product that someone has introduced, and further enhance it by using it in a more innovative fashion.
Coming back to your product range, I feel there has to be a cross-reference between materials: ACP with stone, with glass, with Masonite, with textured paint and so on. So you start complementing other products and present a colour palette that brings in all this together. It's like the pairing of food and wine.
On being sensitive towards the character of a place like Goa
We owe a responsibility to places like Goa which have distinct characters of their own. The language of architecture chosen in a place like that should be truthful to its character. I am not against having an urban structure in Goa, and obviously a theme hotel would like to maintain its brand standard it follows across the globe, which doesn't necessarily have to match the existing trend of architecture in the place. But it's important that the design captures the character of the place, for it's the character of a place that attracts tourists.
I have done a hotel for Radisson Blu in Goa which simply carries the language of Portuguese architecture in detail, along with some local flavor from which I have drawn inspiration. And it works out very well.
Architecture in India, 5 years down the line
A lot of foreign players have entered the market, which is really welcome. I always say in different conferences and forums that we in India should join hands with top foreign architects to increase our bandwidth. This way we can progress faster. The budding architects coming out of architectural schools will be able to further improve their bandwidth during the internship.
It is the responsibility of us, industry people, to see how we can embrace the best practices and the best technology across the globe, which has already started happening. I think five years down the line we are going to see a huge change.
Watch the full interview here: