The 17th century was the age of stone; the 18th century was the peak of brick, the 19th century was the era of iron, 20th was the century of concrete. The 21st century will be the time for timber.

                                                            – Alex de Rijke, director of London-based firm dRMM
The 21st century is going through a transitional stage in timber architecture when wood is taking over from steel and concrete as an architectural wonder material. While there is no reason to forcibly, challenge the role of steel and concrete in construction, the innovative environment and the new trends in architecture demands the use of timber with the architects praising its sustainability, quality and speed of construction.
New types of engineered timber are considered stronger and even more stable than regular wood that is allowing the architects to think about building high potential and more ambitious timber structures.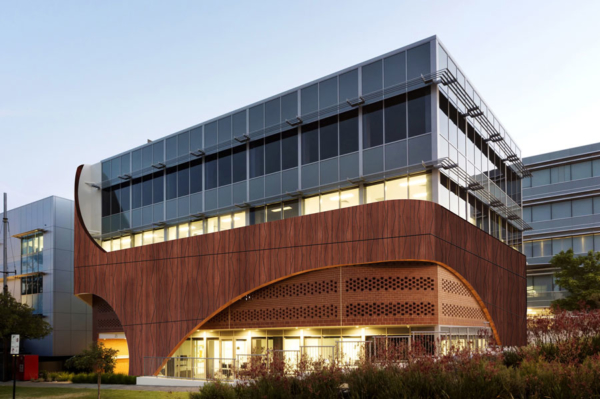 Timber shade used: TR 49 – Joburg Knotty Brown
On one hand, when several types of research consider timber  as the smartest material to build skyscrapers or multi-storeyed buildings, the negative preconceptions related to the new-age timber architecture exists as well. The concern related to timber building's durability, fairly regular and hectic maintenance, fire-safety, environmental degradation factor, and many more issue prevails. However, this gap is fairly bridged by Aludecor's Timber series, the wood-like aluminium composite panels.
With the stupendous innovation of Timber series aluminium composite panels, Aludecor has taken the new-age timber architecture to the pinnacle. With their Timber-series ACPs, timber skyscrapers are now a real prospect. The innovative ACP-material advances are allowing architects to use timber in a way that was unthinkable even ten years ago.
Timber shade used: TR-47 Hickory Brown | TR-48 Hickory Grey
The warmth and aesthetic richness of wood have been marvelously replicated in the Aludecor Timber series. Now, the stunning look of timber can be added to the exteriors and interiors of the building without even depleting the natural resources. The architects can experiment with the looks of the façade using a multifarious combination of Timber series ACPs along with solid or metallic colours that'll surely make all heads turn!
Advantages of Aludecor's wood-finish ACPs:
They can be used for multiple applications (exteriors and interiors)
Their installation is easy.
These wood-textured ACPs are borer, termite, and fungi proof.
They are much easier to maintain and clean, contrary to real wood or compact laminate panels.
Aludecor Timber-series ACP offers a wide selection of a fabulous range of Walnut, Teak, Beech, Maple, Cherry and Afro. However, reciprocating to its fair demand in the market, Aludecor's Timber series is now available in a range of new design patterns that are delightfully vivid and well defined. Seven new design families have been introduced in the series:
Heartwood, Knotty, Hickory, Burl, Zebrawood, Ash and Pine. In the Teak family, four new magnificent shades have been added, while two have been retained from the earlier range.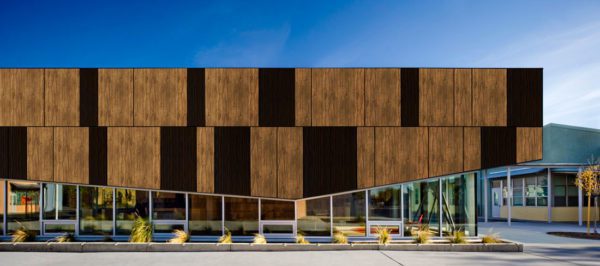 Timber shade used: T-30-Cocoa Teak -&-T-39-Zebrawood Dark
Even the ones that have been retained from the earlier range are now available in enhanced forms having much more striking patterns.
Available in forty (40) shades, the Timber series of Aludecor contributes directly towards the conservation of nature in that it acts as a perfect replacement of wood in architectural designs.
In addition, Aludecor's Timber-series ACPs can also be made available in FR (fire-retardant) and AG+ (antibacterial) variants on request. Now, take your pick from a range of realistic looks and give your designs that extra edge!
Download the latest Timber catalogue.