Consumption of energy is using energy to run an appliance or a system. And energy efficiency means taking maximum power out of minimum energy, without wasting any energy. Or doing more with less! Energy efficiency is also managing and limiting the growth in energy consumption.
Energy is among the most significant resources. Efforts to meet the demands of a developing nation have resulted in fast growth of the energy sector. But efficiency in generation, transmission, management, and usage of energy is important.
On one hand, there have been advancing technology and population explosion; on the other, there have been growing ignorance and indifference towards our planet and environment. Cut throat industrial competition has led to more and more unsustainable means being adopted for development.
Buildings and structures also consume energy. In construction and architecture, when deciding to construct or renovate a building, measuring its energy consumption and creating an energy efficient building, contributes towards creating a sustainable environment.
Urbanisation has been quite rapid in the past 2 decades, increasing the urban floor area and space cooling demand. The trend of urbanisation will only expand further and will have extreme effects on energy security & greenhouse gas emission.
Urban areas are associated with the peak demands of electricity. Growth in electricity means growth in carbon emissions associated with the production of electricity. The surge in critical issues of waste water treatment and water supply in urban areas along with waste management are among the key sustainability issues.
To meet the challenges of energy efficiency and conservation, India has a number of programmes under the GRIHA (Green Rating for Integrated Habitat Assessment) Council. Being an independent body founded by TERI (The Energy and Resources Institute, New Delhi), and supported by MNRE (Ministry of New and Renewable Energy) it engages in scientific & administrative issues to build sustainable habitats in the Indian subcontinent. The country has also seen a decrease in energy intensity which means increased energy efficiency.
India's Indira Paryavaran Bhawan in New Delhi is the first net-zero energy building of the country. The eight storied structure has a platinum rating by LEED and a 5-star rating by GRIHA. The usage of geothermal heat exchange system reduces power requirements for operating air conditioners. Recycling all its water has reduced its water demand by over 50%.
India has seen a dawn of eco-friendly building construction that is energy efficient and use of water management techniques. Some of the prominent eco-friendly structures of India are:
Confederation of Indian Industries (CII) Building, Hyderabad – First LEED Platinum-rated green building in the world, outside the United States, it is also India's first LEED certified building. 90% of the structure does not require artificial lighting in the daytime and it is a zero water discharging building.
ITC Green Centre, Gurgaon – It is rated as the Platinum Green Building by USGBC-LEED; the first corporate house in India to get this award. ITC Green, its high-efficiency equipment reduces energy consumption by 53%. The structure has zero water discharge, stormwater management system, a solar thermal system, and reflective high-albedo roof paint.
ITC Maurya Hotel, New Delhi – World's first and largest LEED Platinum rated hotel to use Parabolic solar concentrators. This structure has received the 'Best Eco-Friendly Hotel' at India's National Tourism Awards. It uses low VOC (Volatile Organic Compounds) paints.
Suzlon One Earth, Pune – Platinum certified by LEED, 90% of its occupied space enjoys natural daylight. LED street lights reduce approximately 25% of its total power consumption. Jet fans in its ventilation system save energy by 50%.
Patni (i-GATE) Knowledge Centre, Noida – It captures daylight for 75% of the occupants. Being LEED Platinum certified, its total area includes 50% open green space. Water management practices like drip irrigation, rainwater harvesting and solar water heating, along with 100% sewage treatment is part of the building's energy efficient system.
Cisco Building, Bangalore – The building scored 96 out of 110 points and was awarded the LEED Platinum ID+C by USGBC. The campus sources 70,00,000 kWh of green power per annum and recycles 100% of its wastewater. The structure has the energy efficient HVAC design. It used recycled & renewable materials for construction.
CRISIL House, Mumbai – Rated as one of the greenest commercial complexes in India, CRISIL House's interior is made with recycled building materials. The atrium at the centre of the structure allows natural light that covers 70% of the work area. This has reduced its power consumption by 40%.
Olympia Tech Park, Chennai – As one of the Gold LEED-rated buildings in the world, it uses energy and water saving techniques. The dual plumbing line of the building treats grey water for flushing and irrigation.
Infinity Benchmark, Kolkata – The air monitoring of this 20 storied building is maintained by CO2 monitoring sensors and intelligent humidification controls. It too has LEED Platinum certificate.
Infosys, Hyderabad – It is the winner of the UK's Ashden Awards which are also known as the Green Oscars. Three of its Software Development Blocks are LEED Platinum rated.
The climate changes caused by greenhouse gases are catastrophic. And rapidly exhausting natural resources have caused the increase in fuel & energy cost. Adopting such green measures in both residential & commercial sectors is the call of the hour.
As a responsible organisation, Aludecor is committed towards the green methods. The impure water discharged during the manufacturing process of the products is treated by its ETP Plant. Only contamination free water is discharged to the Sidcul drainage for further cleaning.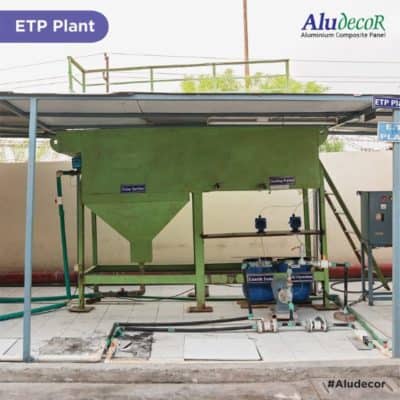 Only recyclable polyethylene and aluminium coil; lead-free paint; and coil coating are used for manufacturing its Aluminium Composite Panels. The company also manufactures the very environment-friendly Copper Composite Panels and Zinc Composite Panels.
Source:
https://www.energy.gov/energysaver/design/energy-efficient-home-design
https://www.isover.com/how-design-and-build-energy-efficient-building