Meet Aludecor's new series of 6mm ACPs, Ace. Unlike the normal ACPs, Ace largely leaves out the use of silicone as it can be directly riveted into the substrate. ACE can be directly applied on to the substructure (rectangular aluminium channel) with the help of SS screw and POP rivets as well as PU Sealant and VHB Tape.

These substructures are then mounted on the wall using angle brackets. One can achieve the same aesthetic with Ace, as can be achieved with HPL. At the same time, Ace comes with the inherent advantages of ACP over HPL. These ACPs too are light in weight, and resistant to chemicals and UV as well as, to borer, fungi, and termite. It can also be easily bent to 900, unlike the HPL. The Ace ACPs are also weather proof and can withstand extreme weather conditions, unlike HPL sheets which can withstand the adverse weather conditions till 5 years only.
Features of Ace:
6mm thick ACP panels
Resistance to UV rays
Weather-proof
Resistance to swelling in boiling water
Resistance to stains
Fire-retardant
Withstands strikes and abrasion
Easy to install and maintain
Lightweight and flexible
Easier perforation and design precision
Aludecor's Ace – 6mm ACPs has 18 shades in all. Out of which 16 are wood finishes and 2 are stone finishes. These aluminium composite panel claddings are highly durable and cost-effective than HPL.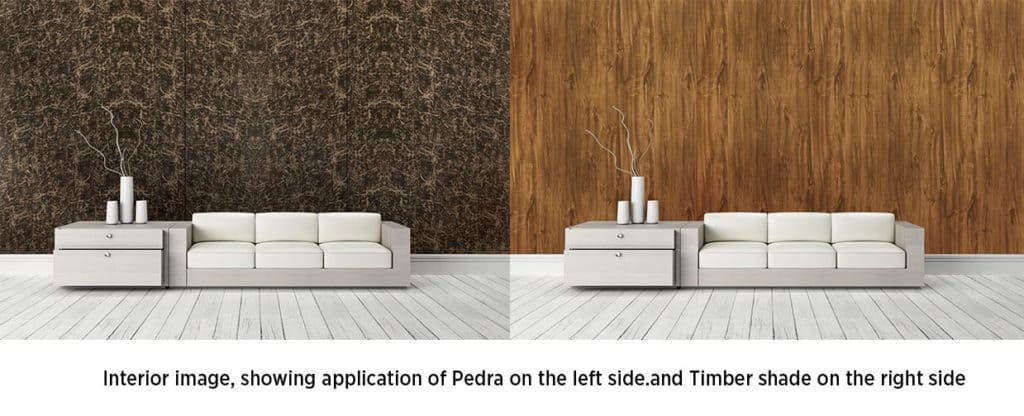 While HPL boards are frequently used in interior design, because the antistatic surface is very easy to clean, environmentally friendly and physiologically harmless, Ace can be used extensively in bungalows, shopping malls, hotels, high-rise apartments, Industries, office buildings, retail shops, airport terminal etc. However, Ace can also be used in interiors as well due to its easy installation method and easy maintenance.
 What is HPL?
HPL or High-Pressure Laminate is made of melamine impregnated multiple layers of Tissue paper, Design paper, Barrier paper, and Kraft papers phenolic resin impregnated sheets, which are bonded under the combined effect of heat and high pressure.
HPL vs ACP:
High Pressure Laminates are scratch resistant, stain proof as well as fire resistant. It is a common choice for horizontal surfaces including flooring, countertops and desktops. However, these laminates are heavier and cannot be bent easily, which are its major drawbacks as a building material. Moreover, they are a little expensive than ACPs. HPL sheets are also opaque, do not let any light through and therefore used especially for the cladding of exterior facades and as privacy screens for balconies. The decorative sandwich sheets have a building inspectorate approval, so that they may also be used in the commercial sector.
HPL boards are also frequently used in interior design, because the antistatic surface is very easy to clean, environmentally friendly and physiologically harmless, which has a positive effect especially in furniture and kitchen construction.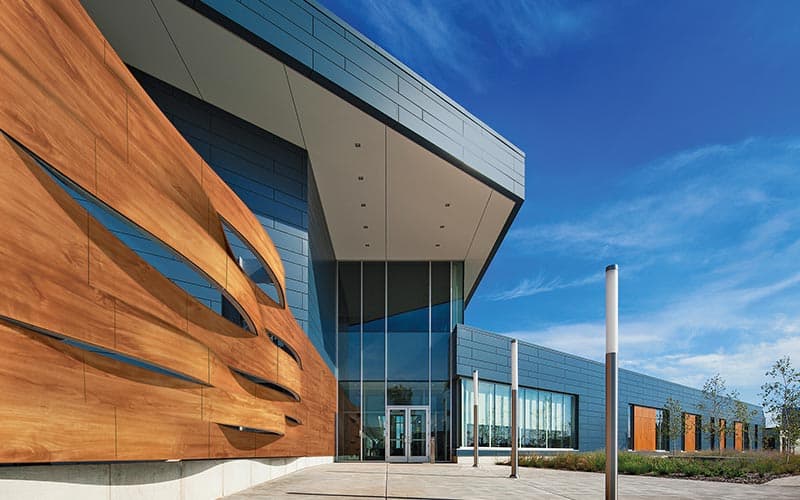 Aluminum Composite Panel or ACP is a new age material that is used for building exteriors, interiors and signage. ACPs can be bent, folded and shaped differently and allow greater design liberty. They are UV resistant, recyclable and are borer and fungi proof.

Aludecor's Ace has been designed keeping in mind the major drawbacks of HPL and the advantages of Aluminium Composite Panel, to provide a better building material. Ace has advantageous features of both ACP and HPL.