Launch event serves as an occasion to sensitize the retailer community on fire-safe ACP
Platinum Club, the term was just an idea until Aludecor materialised it by launching the Club for its exclusive Channel Partners. It was a 2-day event held on 29 and 31 August respectively. This grand affair welcomed a bunch of a selected group to partake in the launch.
The event started by lighting the pious lamp at Aludecor factory in Haridwar, followed by the inspirational speeches, detailed technical presentations, factory visit, CSR activity and a motivational session.
Factory visit during Aludecor Platinum Club Meet
The presentation highlighted the core technicalities behind an ACP production. Also, it gave an insight into Aludecor's manufacturing facility and the unique marketing initiatives.
Aludecor has the best and innovative marketing techniques. Aludecor is such a brand with which no other brand can compete. It is the main brand in Kolkata and will continue being like this, – said Anirban Saha of Maa Durga Enterprises of Kolkata
The event saw two big launches, Platinum Club and antibacterial ACP called AG+.
AG+ – India's first anti-bacterial ACP, AG+ was launched with grandeur. Besides innovation and quality, Aludecor strictly takes care of the environment, health and safety and AG+ proudly serve the purpose by being the ultimate guard for the families. AG+ can be used in health units, spas, Montessori, schools, residences, and more.
Platinum Club – For the very first time, Aludecor took an initiative to recognize the channel partners who consistently have played an instrumental role in expanding the business that resulted in growth and prosperity. – The club will serve the purpose of long-term business goals of Aludecor and its channel partners.
Our association with Aludecor is of 14 long years and when I started dealing in ACPs, I thought the product is Aludecor and not ACP. Even, the newspapers in Jabalpur referred as Aludecor being installed in Railway Platform No. 6. The brand name is synonymous with the product, which is a great feeling, – said Naveen Jain of Kanch Mandir
Besides the inauguration of the club, the event also marked the importance of #BeatTheFire revolution started by Aludecor. A detailed presentation on how Aludecor and its channel partners can contribute in their own little ways to contribute towards the larger goal of making India fire safe was given.
Safety wise it is the best policy to take. There have been certain fire incidents in the recent past and complaints of fire in the buildings are a frequent phenomenon. Spreading awareness will take some time, but people will definitely think, change and act on these things, – said Salil Singla, of Singla Traders 
One of the most interesting segments of this event was the Aludecor Factory Visit. The channel partners were astonished and delighted to see such an amazing facility and were more than happy to experience the production of ACP sheets, check out the baby line and watch the fire and other tests done in the in-house laboratories.
The factory is amazing. The cleanliness, the quality of production, the happy environment around and the work culture were things to cherish, – said Ajay Agarwal ofKarnataka Metal Co.of Karnataka.
A felicitation ceremony was organised to recognise and reward the extraordinary work done by the Channel Partners. Senior most members, Subhash Agrawal (Bijaya Plywood Centre) and Babu M.N (Bright Aluminium Corporation) were honoured both for their long-term association and for amazing work done. Of the many felicitations that took place, here are the names of some of the awardees:
Sandeep Chaudhary from Bharat Glass & Aluminium Works – North Zone (Highest growth and Special series and exclusive CP)
Anirban Saha from Maa Durga Enterprises – East Zone (Highest Growth and Special Series)
Pratik Bhandari from Orris Overseas – West Zone (10 years)
Madan Lal Sharma from Core – West (10 years)
Pradeep Sethi and Vijay Sethi from Brite Plywood Agencies – North (10 years)
Harsh Agrawal from Mohan Hardwares Pvt. Ltd. – Central (Special Series and Exclusive)
Naveen Jain from Kanch Mandir – Central (Highest growth and 10 years)
Kannan Srinivasan from Devaki Sheets – South 1 (Highest Growth and Exclusive CP)
Vairavan Subbiah from Minerva Glass House – South 1 (Special Series)
Paresh kumar Shah – South A (Highest special series and Highest Growth)
Ajay Agrawal from Karnataka Metal Co. – South A (10 years and Exclusive CP)
It is a 15-year long association. It's not only long but a trustful relationship that both of us share and I am very proud to be your channel partner – Pratik Bhandari, Orris Overseas
The cheers and applauds, smiling faces, fruitful discussion and appreciation, surprise birthday celebrations, channel financing ideas and more made the event even livelier and a grand success. Besides this, a CSR activity of tree plantation was organised. Being a responsible corporate citizen, Aludecor had always taken care of the aspects those are environmentally friendly and will abide by that even in the future.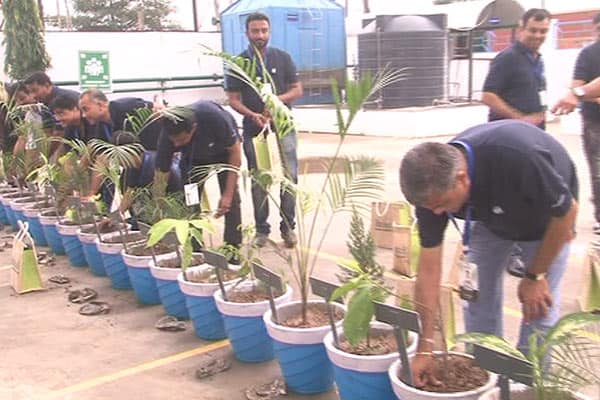 Tree Plantation at Platinum Club Meet
Aludecor is a great support for us and day by day our sale is increasing, thereby resulting in the growth. The marketing team is great and the wide range of innovative products is amazing. Moreover, the architects prefer and refer Aludecor for any projects they do, asserted Vairavan Subbiah of Minerva Glass House
The last but not the least, the event was ended with an uber-interesting session "expanding horizon to achieve growth" by the inspirational speakers named Vijay Michihoto Batra and Suneet Chopra. The sessions were fun, relaxing and of course motivating. Overall, it was a platinum experience to cherish for a lifetime.