A beautiful façade plays an important role in the overall appearance of a building. With the help of modern technology façade designs are evolving day by day. Technology today enables even better utilization of the flexibility of aluminium composite panels to give birth to amazing façade designs.
The Fins:
The various advantages that ACPs have over other materials like flexibility, lightweight and easy installation, makes it the preferred material to work out amazing façade fins. In this image Aludecor's Traffic Yellow ACP has been used to showcase a façade with fins.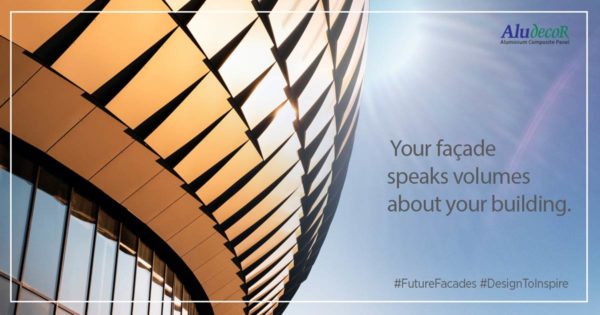 Copper Facades:
Copper has been used as a building material from ancient times. Copper Composite panels are very much in vogue nowadays. Aludecor's CCP has a fresh copper colour, when newly installed. On being exposed to sunshine, rain and humidity in the atmosphere its colour changes from bright copper to matte brown and other delightful hues. Further exposure to years of oxidisation creates brilliant green patina spots on the panel. Here we have shown Aludecor's CCP used to clad the windows. On the rest of the façade, Aludecor's new bright orange and pearl copper shades have been mixed and matched to give a striking look.
CNC Cut Designs:
CNC cut designs are one of the recent trends in the field of Modern Architecture. Many interesting façade designs and artistic inspirations are experimented with CNC cut designs to create extraordinary facades.
Perforated ACP can add a distinguishing look that facades of auditoriums and art museums deserve. Here the perforated Aludecor ACP of the Pearl Copper shade blends perfectly with stone to give a magical look to the facade.
3D Designs:
Aludecor's ACP can be used innovatively to create outstanding 3D facades. An intricate 3D façade looks more dramatic and livelier. Here we have created a 3D design with the Lava shade of Aludecor's Sand Series ACP. The curves and bends on the facade effect a delightful play of light and shadow.