We spend most of our time indoors, be it office, home, or cars where every second we intermingle with multitudes of microbes, bacteria or germs that are not visible under normal viewing condition. There have been countless studies on the detection of disease-causing microbes, pathogens from hygiene critical environments, hospitals, etc. and also on the consequences of these microbes on human health. Considering these, technology and building materials ensuring greater resistance to bacteria, play a major role.
According to new research studies, indoor air pollution can be as much or more of a problem as pollution outdoors.
AG+ antibacterial ACP used in hospital
One of the solutions to these concerns are having anti-microbial construction materials, like wallboards, paint, insulation, faucets, and flooring.
Aludecor have recently come up with their new range of Anti-Bacterial ACPs, known as AG+. These ACPs are 99.99% effective against harmful bacteria like MRSA, E.coli, Salmonella, and Legionella, as well as black mould growth, biofilm, and fungi. The special silver ion coating of these ACPs offers greater resistance to bacterial growth on the surface. These ACPs are ideal for Interiors that are more vulnerable to bacteria and microbes, like Kitchen, Hospitals and Healthcare centres, Kids' Room, Health Spa, Gym and Fitness Studios among many more.
Benefits of AG+ antibacterial ACPs:
Durability
It adds to the durability of ACPs since it has cleared the 10-year accelerated ageing test.
It doesn't lose its anti-microbial property after any abrasions.
It remains unaffected by cleaning materials.
Protection against microbes
It protects against a range of bacteria including E.coli, MRSA, salmonella, legionella, black mould, biofilm and fungi.
It arrests the growth of bacteria across the material.
Safety
It does not have any kind of additives which can cause health and environmental concerns, like nano-silver, triclosan or other organic anti-microbial additives.
AG+ coated ACPs are safe for mothers-to-be, infants and toddlers.
Care and Maintenance
These ACPs need low to no maintenance.
How AG+ ACP works
Effective against a number of microbes Aludecor AG+ prevents the growth of bacteria and fungi. Silver ions embedded in the coating material are released via ambient moisture.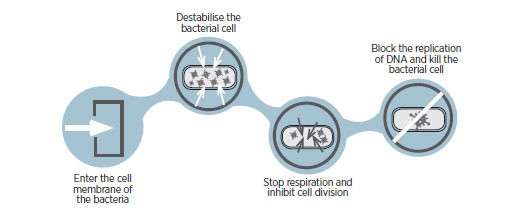 How AG+ ACP works against microbes
The best places suitable for these ACPs are:
Homes | Hospitals | Playschools | Pathological labs | Nursing homes | Clinics | Public buildings | Toilets | Kitchens | Swimming pools | Changing rooms | Beauty parlors | Salons | Fitness clubs and spa.
Download AG+ catalogue.